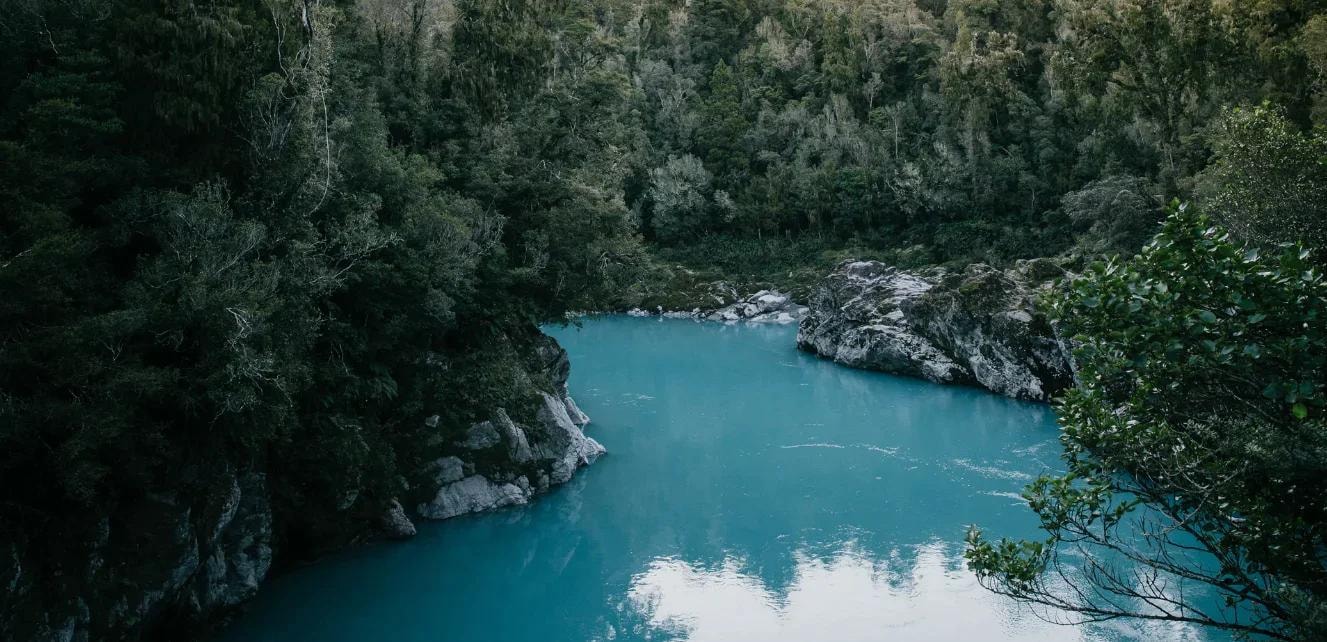 Sustainability
Sustainability begins with products that will last a lifetime and be passed down through generations
A Limited Resource We Must Safeguard
Regarded as a taonga (treasure) in New Zealand and a gift from Papatūānuku (Mother Earth), pounamu is a limited resource that must be safeguarded.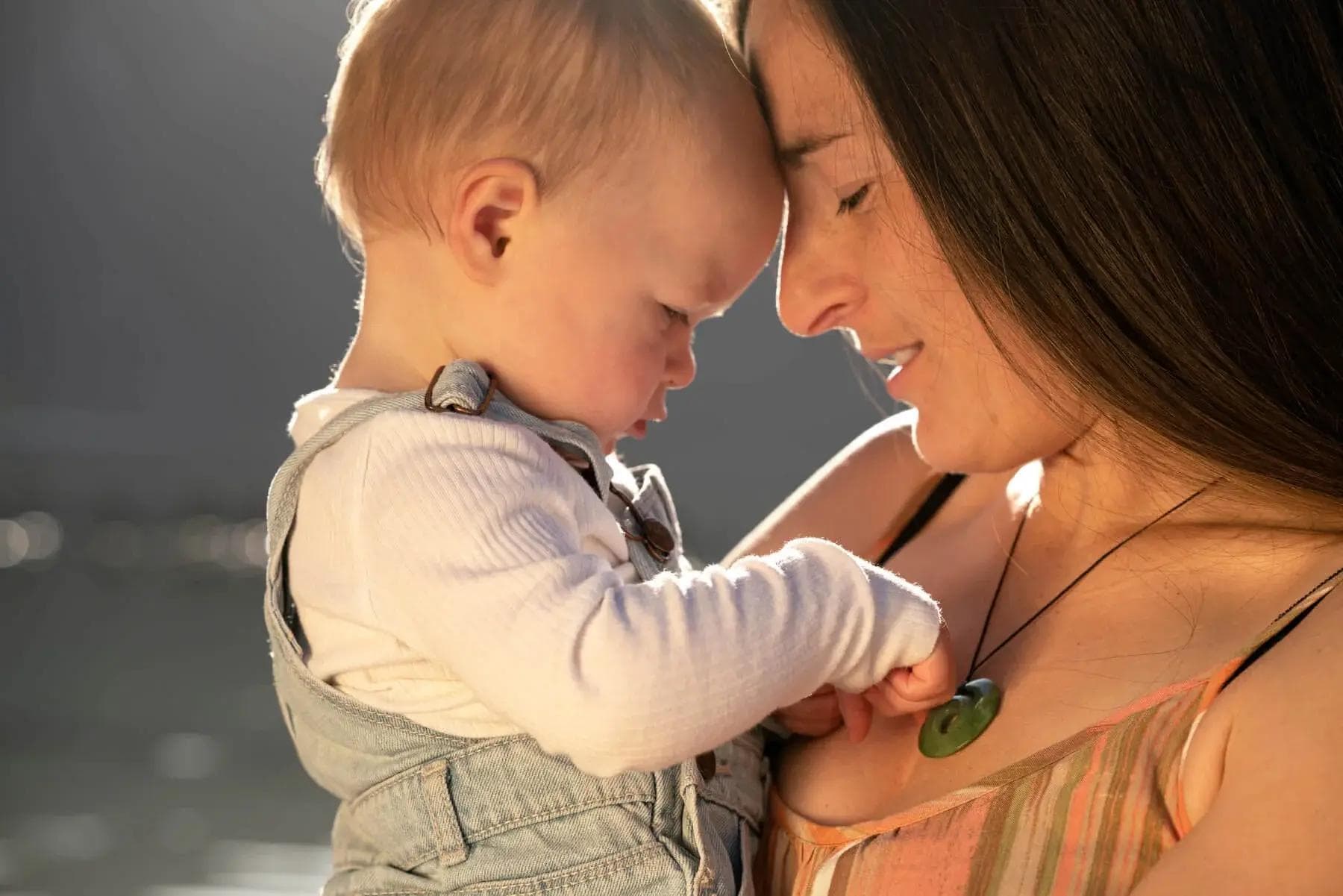 So, what does that mean for Mountain Jade?
It means we are committed to protecting our treasure, the environment it is found, and the community in which we do business. We will always strive to do as least harm as possible when creating our carvings.
We've got several initiatives underway to reduce our impact, like engaging with artists who share our values, and reducing the amount of packaging and waste we produce. We're proud of what we're doing in the sustainability space, but there's plenty more to do! Here are some sustainable actions we currently champion and some goals we are working towards.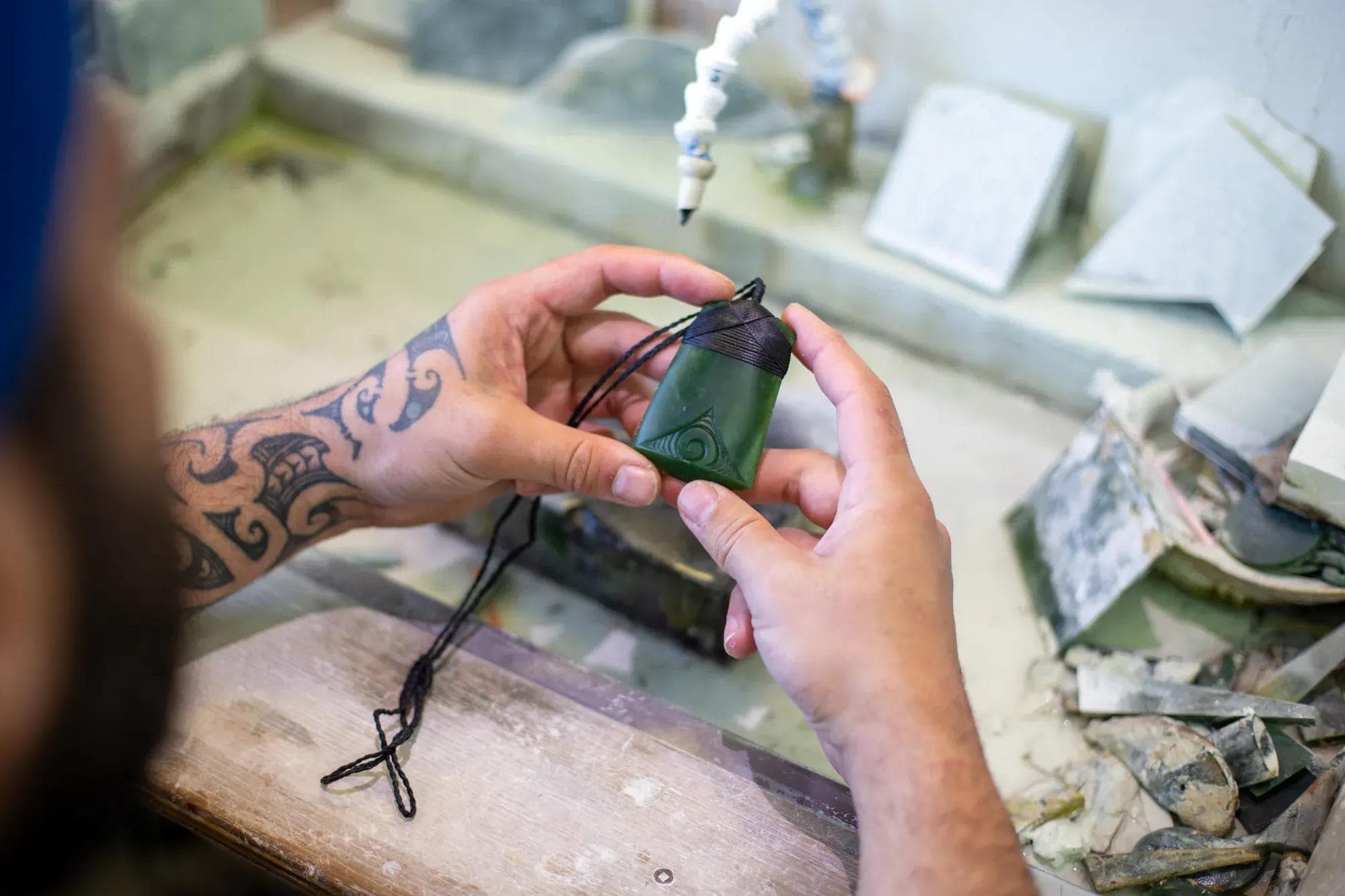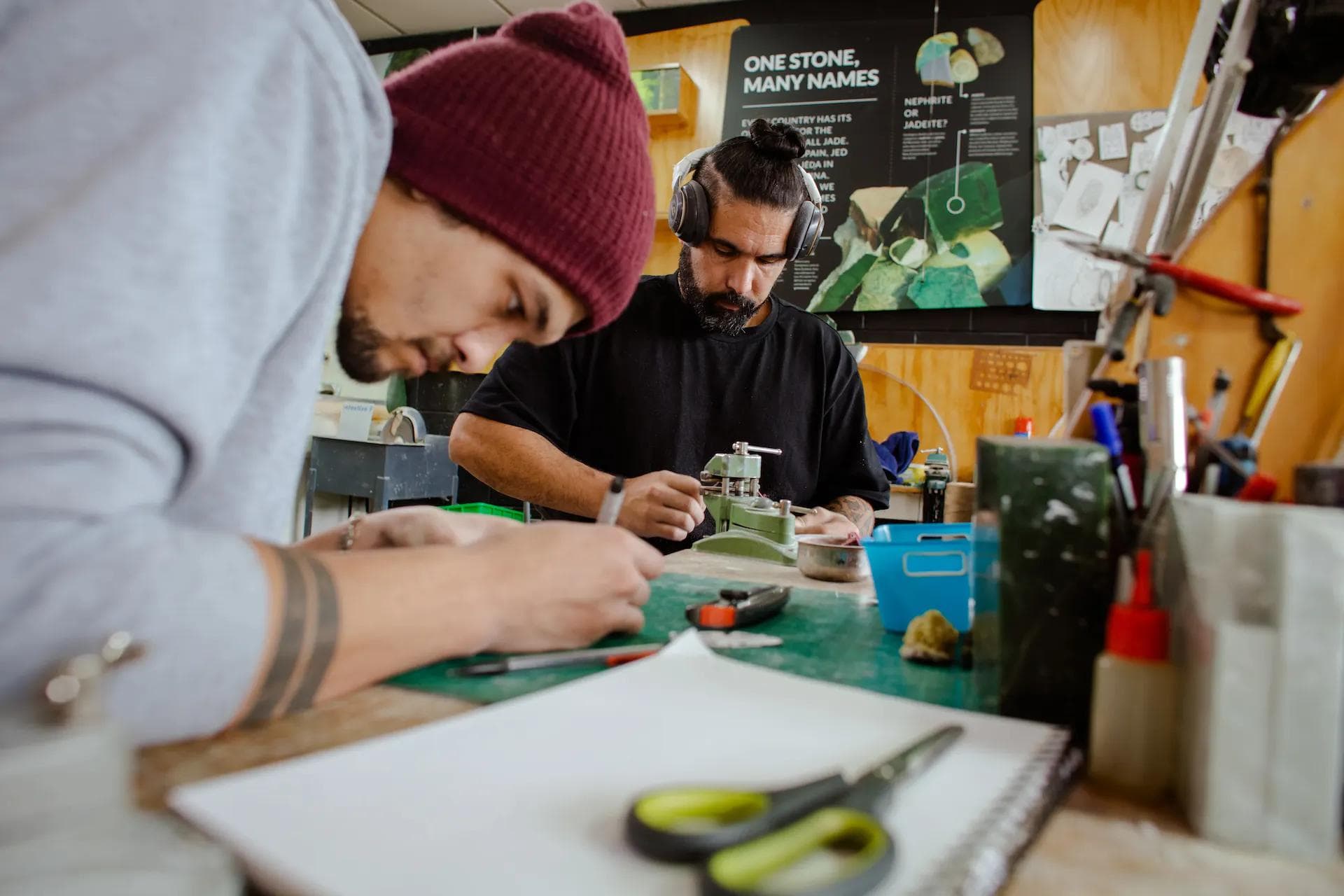 Working with Artists Who Share Our Value
Firstly, we choose to work with artists who are deeply connected to the jade they use and take extreme care to honour and fully utilize each piece of stone. We reduce waste by turning even the smallest offcut of stone into a pendant or piece of jewellery such as earrings, rings and bracelets which can be loved and cherished for a lifetime.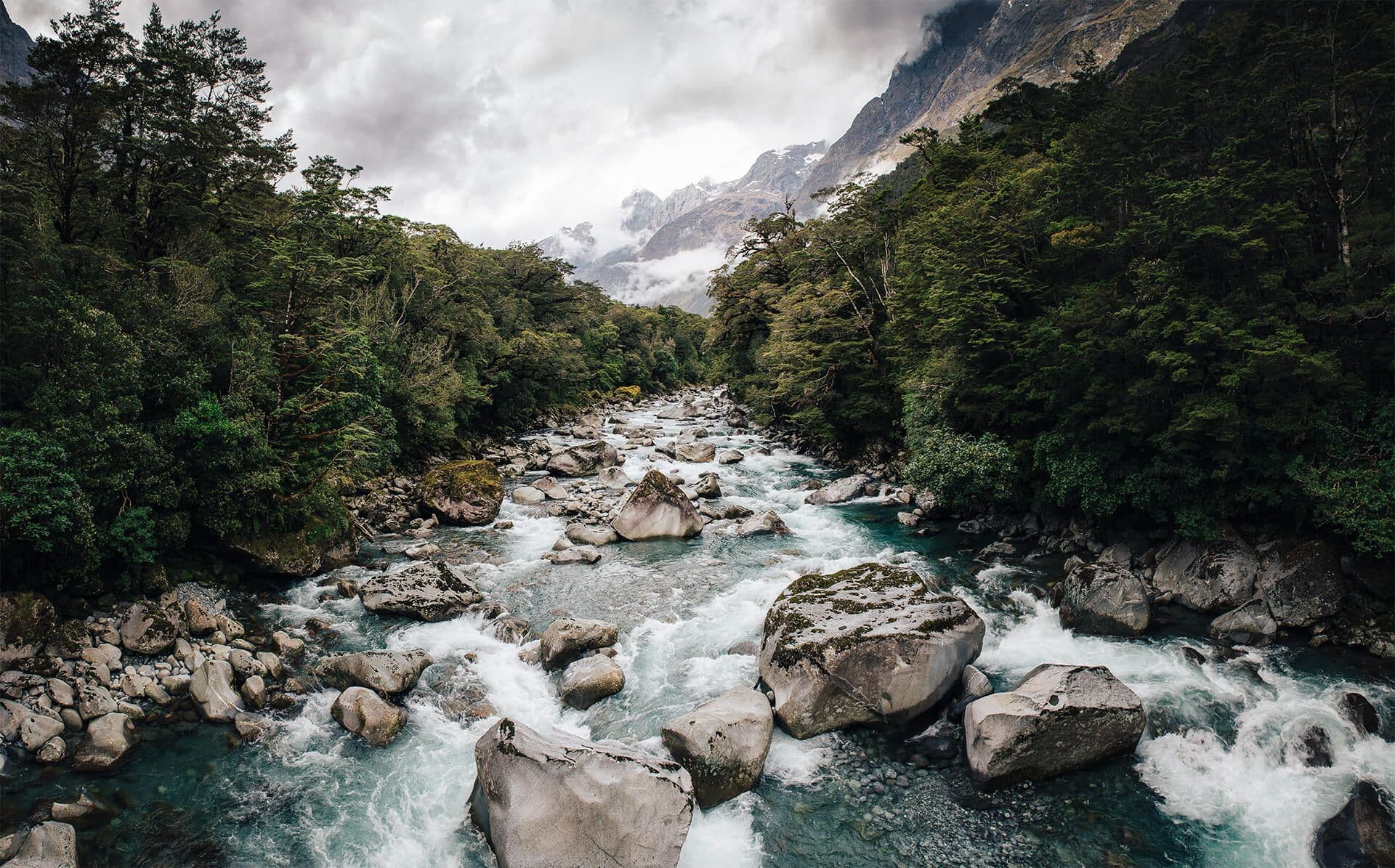 Sourcing stone responsibly
New Zealand is one of the few countries in the world that does not mine for its jade, the stone is instead fossicked in riverbeds and glacial valleys. In the late 1990s, the New Zealand government vested ownership and guardianship of all pounamu to the South Island tribe of Ngāi Tahu. As kaitiaki (guardians), Ngāi Tahu ensures any raw pounamu is sustainably and ethically sourced to make sure our taonga (treasure) is safeguarded for future generations. This includes not just caring for the stone but also protecting and advocating for the rivers it comes from, the artists that shape it and the communities that surround it.
Packaged with love and care
Ensuring we are as respectful as we can be to the environment while endeavouring to share beauty of jade, is something we will continue to work on as a business, constantly looking for ways we can improve on our practice. This is precisely what we had in mind when looking at the redesign of our packaging. Although we are not perfect, we tried to ensure we had the least environmental impact as possible, again, working with suppliers that share this similar viewpoint.
Your piece will come in an oatmeal jewellery box which will be securely placed in a low-ink, recyclable card shipping box (used to protect the piece in transit). Any packaging used to hold your piece securely inside this shipping box is made from either recycled and recyclable paper or tissue.
We are currently re-designing our oatmeal jewellery box and are proud to announce that in 2024, we will replace it with an environmentally friendly version that is made fully from cardboard, includes no plastic, and can be recycled.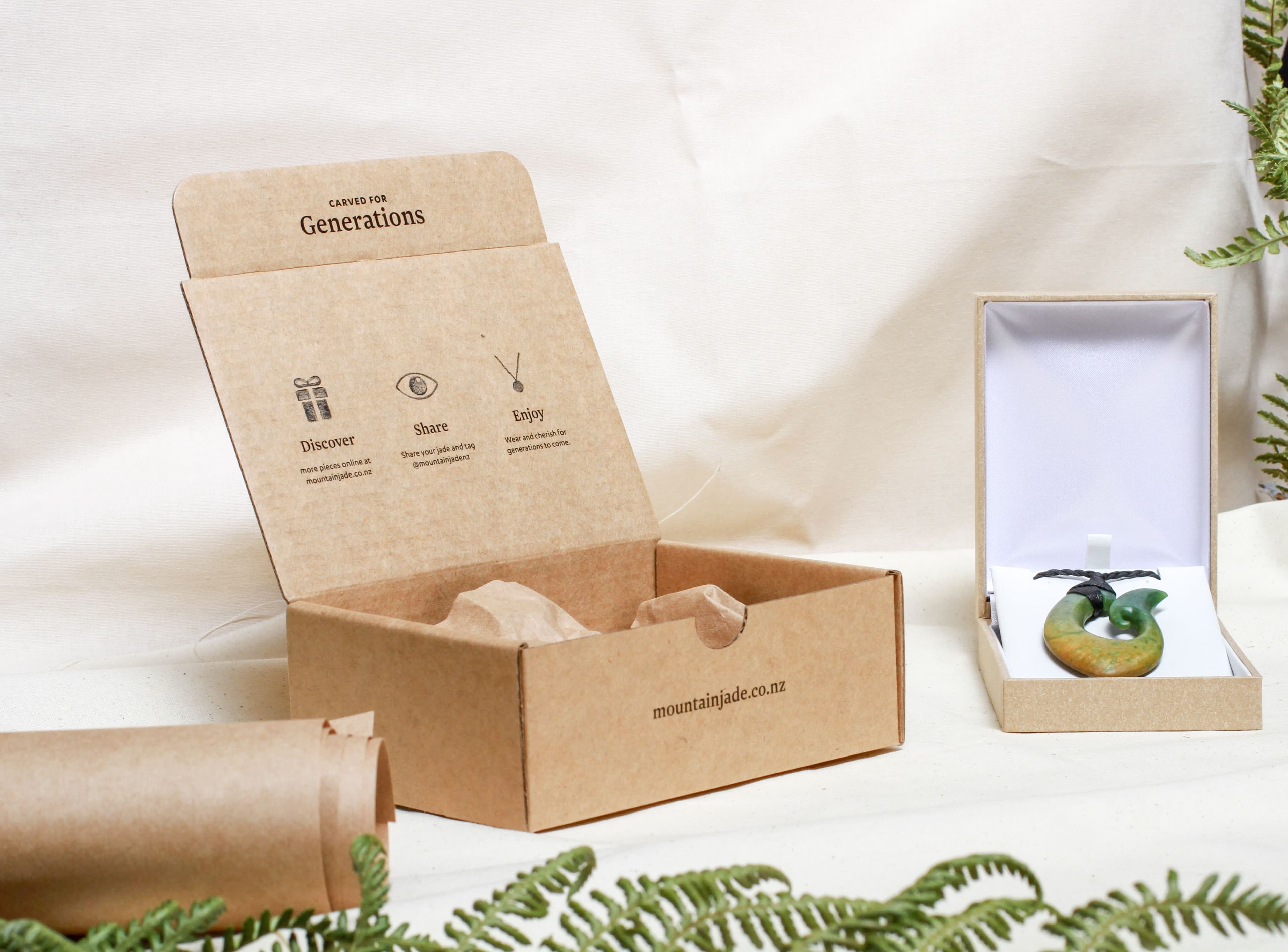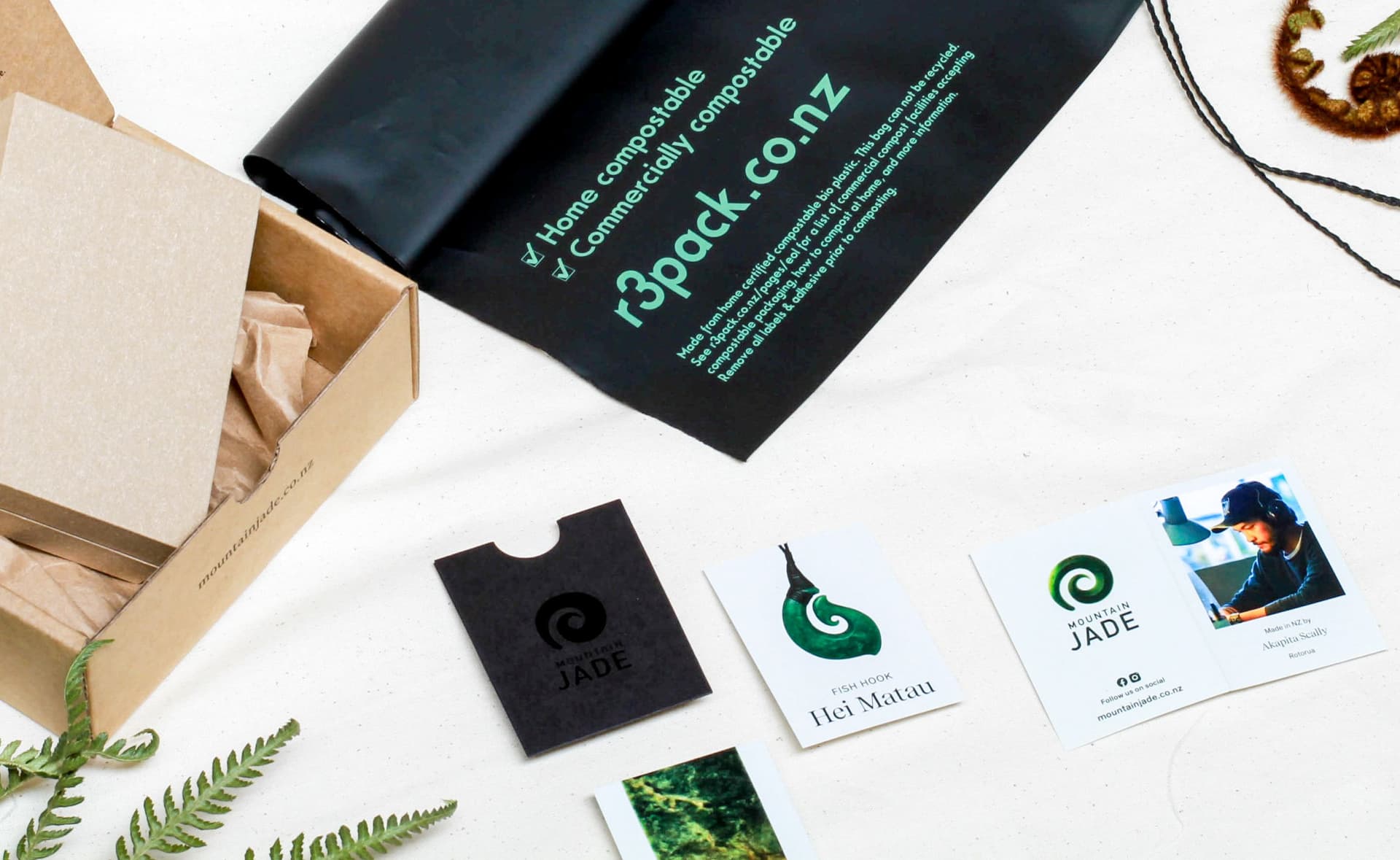 We've opted for home compostable mailers by r3pack, that are made from plants and are plastic-free. These new bags are a fantastic, proven, durable bag that we are confident will get your product to you without ripping.
We also chosen to use DHL's GoGreen Plus services as part of our commitment in aiming towards Climate Neutral Shipping.
Being as sustainable and respectful as we can be to the environment while endeavouring to teach the beauty of jade is something we are committed to and will continue to work on as a business, constantly looking for ways to improve our practice while sharing our jade stories and treasures.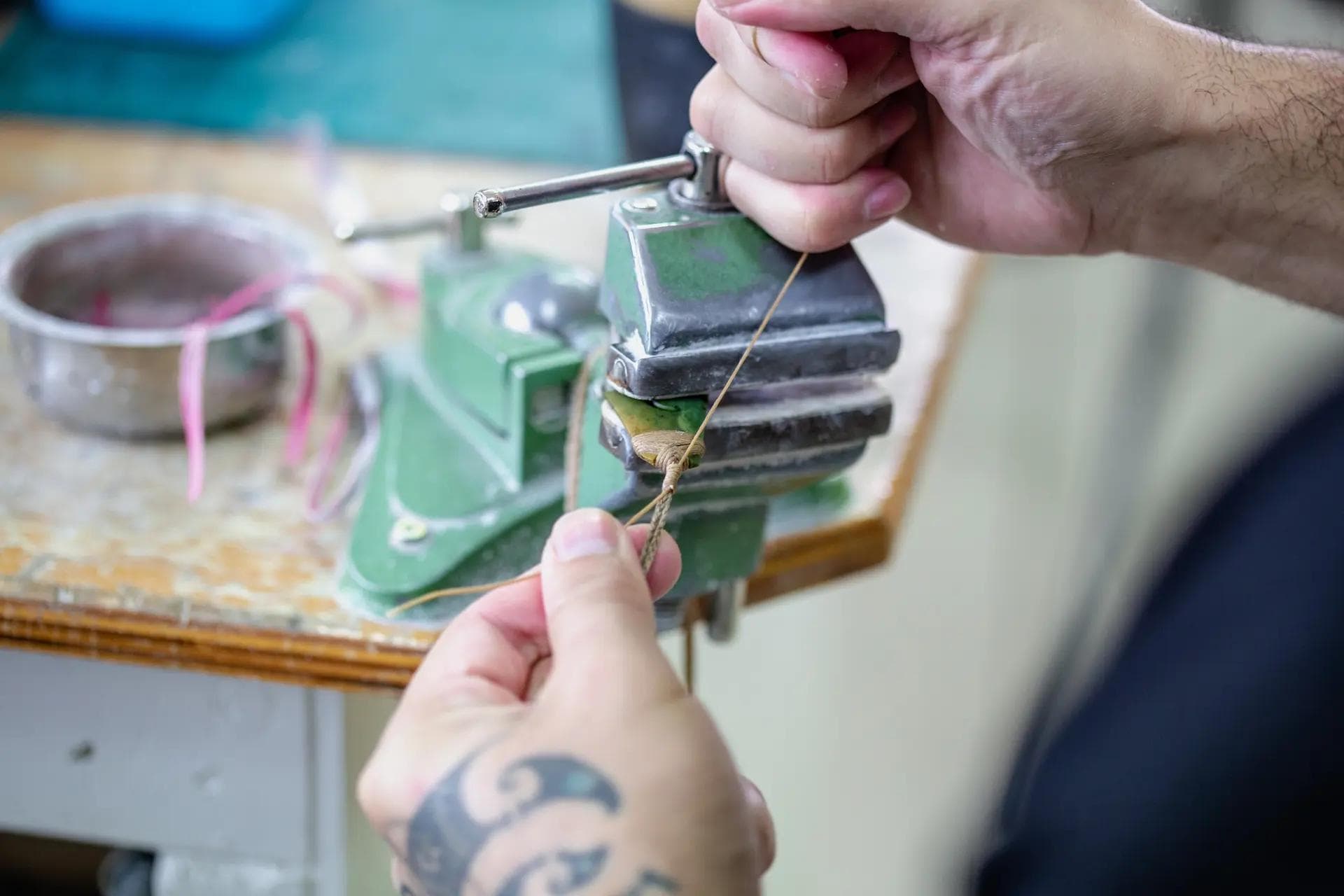 Product Care
We are committed to carving stones that will last for generations. However, everything needs a little love from time to time. The way you care for your jade can have the biggest impact on the environment, so we've put together some product care advice to help you look after your pendant or jewellery and make sure it can be cherished forever.
Occasionally, cords can come unravelled, and accidents can occur, such as chipping or cracking your stone on a hard surface. If this happens, don't panic. We know that repairing before replacing is easier on the earth, so we have put together recommendations to help you fix your jade pendant or jewellery and help to protect our limited resource.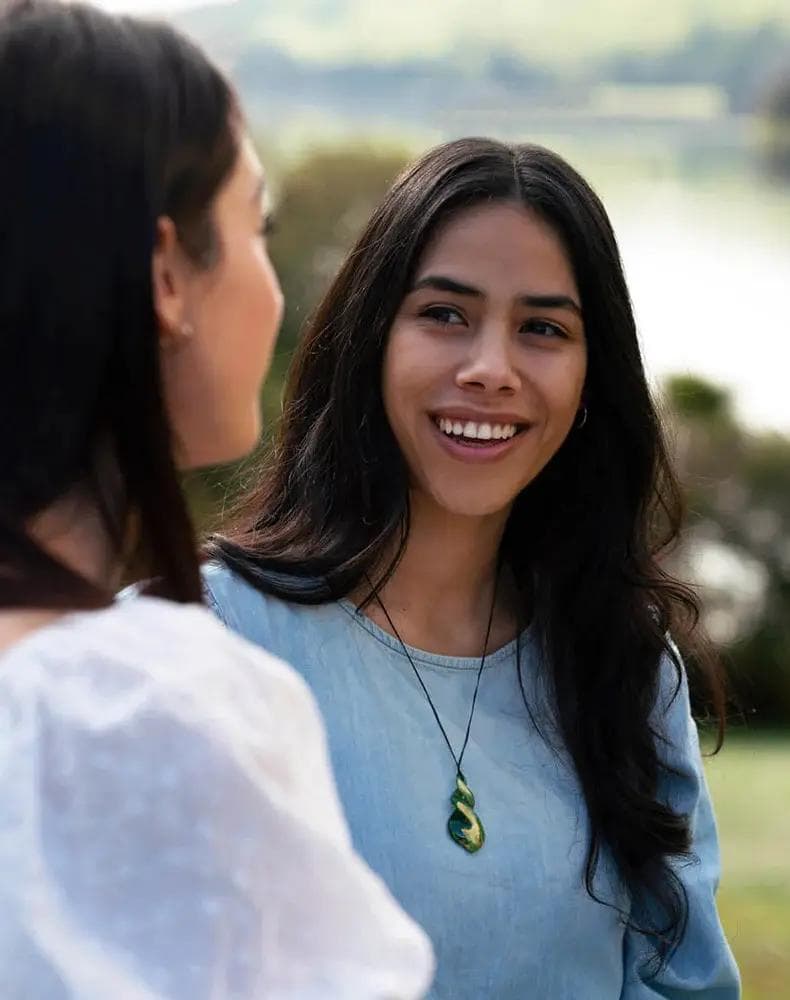 Empowering Others
As a business we try to empower our team to think and act sustainably as part of their role. From turning off lights, to recycling, and only printing when necessary, we aim to encourage the right environmental choices while at work.
We also provide our team with some tools to help them care for the environment, including reusable Mountain Jade keep cups and water bottles, hybrid vehicles, and budgets to offset their carbon emissions when flying.
Delivering Our Experiences
We love it when you visit us in Rotorua and Auckland International Airport, and we want to make sure the experience you receive has as little impact as possible on the environment.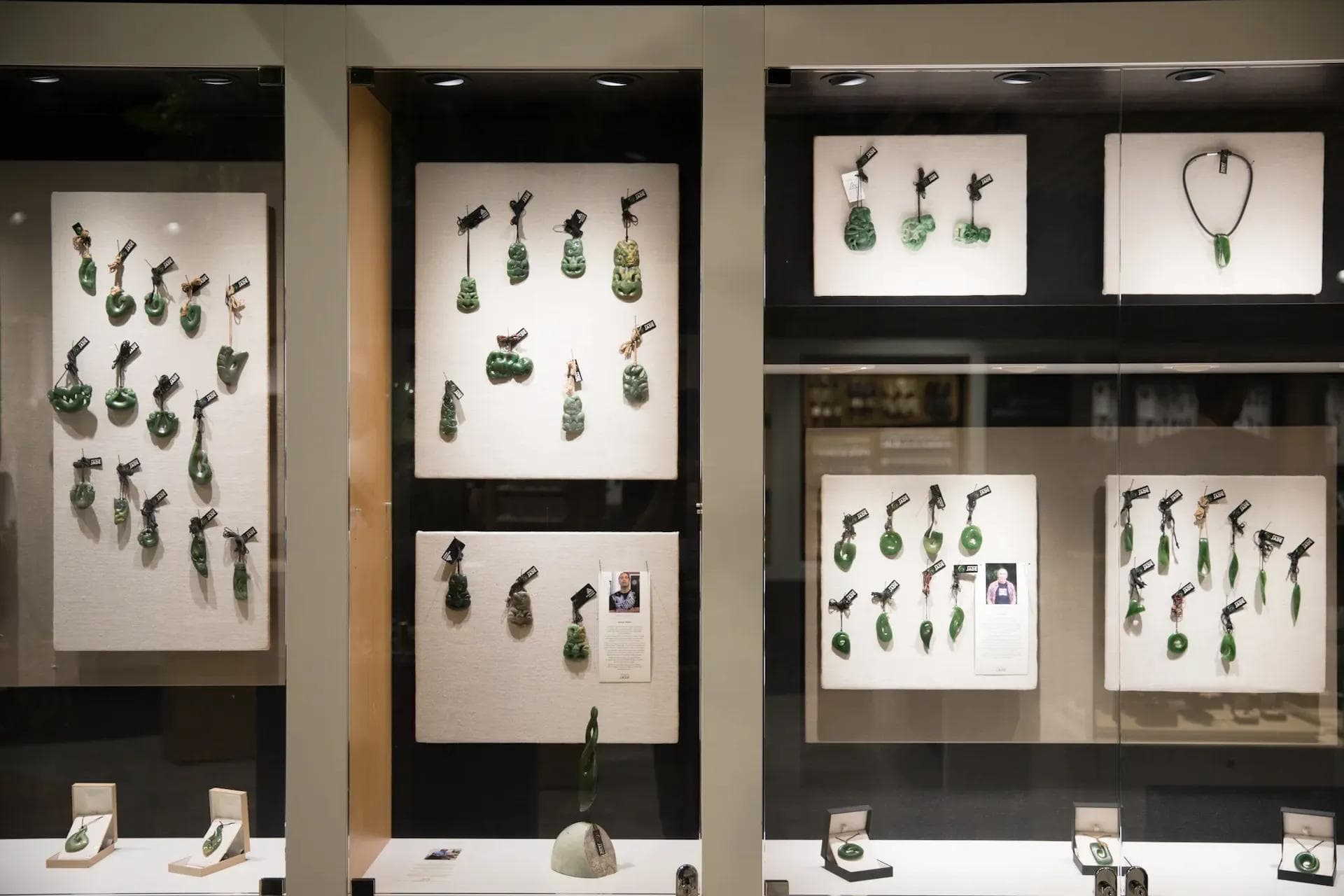 In our retail stores we use halcyon LED lights which carry an A/A+ energy rating, and ensure all heating and air conditioning units are on timers and do not run unnecessarily. Our store fit out uses considered materials, prioritising items which are durable and reusable, and choosing resources which are sustainable and natural, including glass, metal, and wood. We also pick locally available resources when possible.
In our carving studios, we aim to reduce pollution which comes from our creations by using multiple 'settling tanks' to ensure any water leaving the premise is as clean as possible. We conserve energy by turning off our machinery when its not in use and use non-toxic materials where possible.
Carving for Generations
Sustainability begins with products that will last a lifetime and be passed down through generations.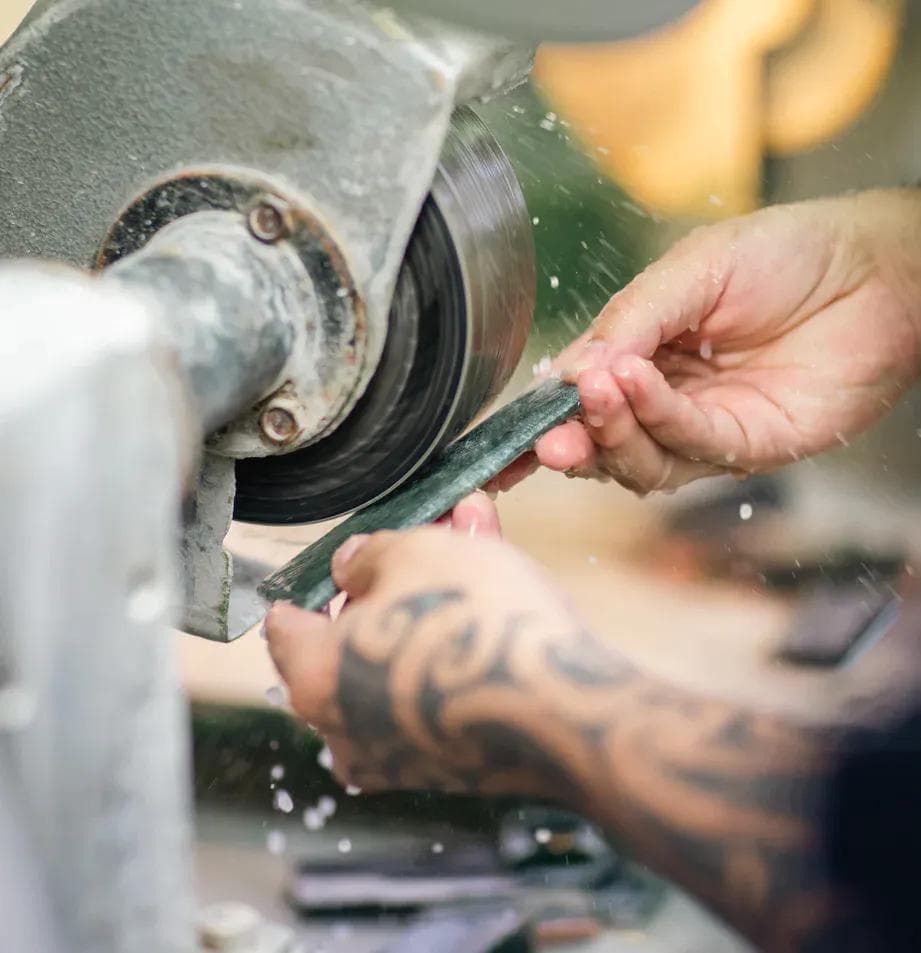 The gifting of pounamu and passing it down through generations spans far back in Māori history, and it has long been the belief that as heirlooms are gifted and passed, they increase in mana (prestige) and carry with them rich histories and stories. It is also thought that pounamu has spiritual value and takes on the mauri (life force or essence) of the person wearing or wielding the stone - and as it is passed down through generations, it continues to encapsulate the spirit, energy, and strength of previous wearers.
Carving for Generations is our way of explaining how we do business - creating stones that last, while doing the least to harm the environment.
Who we work with to help protect the environment